In the early-1970's, children magazines saw the impact that Marvel Comics (Especially Spider-Man) was having on young readers worldwide. Dynamite, Bananas and The Electric Company had all jumped on board the "Mighty Marvel Express", so it was time for another to join the scholastic ranks.

It was entitled SMASH, and in 1974 it made just that with its plentiful contents of celebrity interviews, games and posters.

Marvel was nearing the end of a very popular campaign where it printed numbered stamps in its comics that the fans would clip and collect. SMASH wanted to do something similar so created the Mighty Marvel Mix-And-Match Marathon.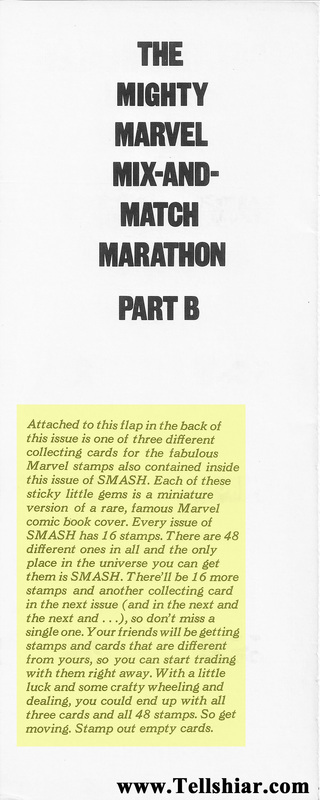 In my opinion, this was a much better version with actual stamps and included cards to stick them on: Marvel's were paper cut-outs with a book to paste them in for an extra fee, as well as up to 6 weeks waiting time for it to arrive.

The program was introduced in the first issue and ended in its last issue of the season, number 6. Currently, no collector can determine why.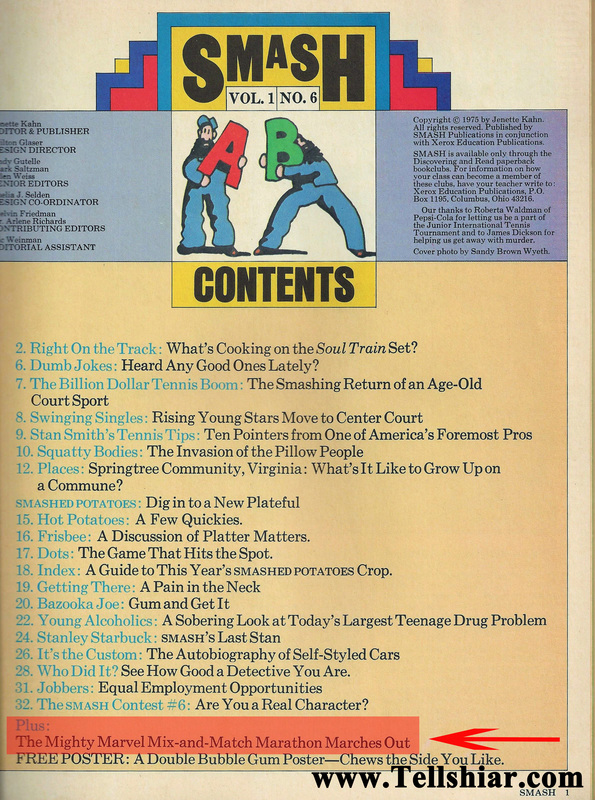 SMASH remained in circulation for another season before ending in 1976. It was never sold in stores and only available for purchase/subscription in Weekly Readers, distributed by participating schools. It is the rarest of all the magazines and hardest to find 100% intact and complete due to all of the pull-out premiums within its pages. Every once in a while, a collector will come across one of its goodies and either recognize its origins immediately or go insane (for years) trying to figure out from where.